Breathing seems like such a simple thing but we tend to forget to do it on a daily basis. So let's stop for a moment and just breathe.
Breathe in…
Breathe out…
Breathing is a major part of meditation. Without a calm breathe it's hard to calm the mind and give your brain the break it needs.
I started meditating several years ago and it's slowly become a lifestyle. After reading, researching, and making trial-and-error purchases I found that I have a few favorite items that help me get to a deeper level daily.
Each meditation varies in duration. Some days I need seven minutes and others I need two hours. It just depends on how I'm feeling. Below I listed my favorite meditation aids.
Cushions
Cushions make it almost effortless to relax your body. I have the velvet mat from Urban Outfitters, which I love. I can roll it to travel size, fold it for a more comfortable seat, and lay flat for total body relaxation. The velvet mat sold out, however, they do offer other options.
$14.95 Black Mineral Market
Soft Glow
Lamplight will set the mood. It's similar to sitting at a campfire and staring into the flames. It's such a calming effect which is why I use Himalayan Salt Lamps. I purchased one a couple years ago and have used it every night. Some studies have suggested that the salt lamps help with respiratory problems; I have athletic induced asthma, so I can't really say if those studies are true considering I don't work out where I meditate. I feel like I do breathe better in my meditation room though.
My first encounter with Himalayan Salt was during my adventure in Santa Barbara, I went to a salt cave for the first time and it's sparked my meditative lifestyle. My mother and I had a self-guided meditation in the salt cave with blankets. Salt covered the walls, floors, and ceiling. It was amazing. After the session, I felt like I was glowing and surprisingly happier. So of course, I committed to getting myself a salt lamp. The glow just warms the cockles of my heart.
Enough about lighting, let's talk about touch. I found I like holding onto crystals and minerals. Holding crystals centers my conscious mind and allows me to put my energy into the crystal. I'm usually a yo-yo in terms of energy which is why gently holding onto something tends to keep me balanced. I often switch between Lemurian crystal, moonstone, a variety of quartz, and selenite. It depends on my mood and what I am looking to target during my meditation.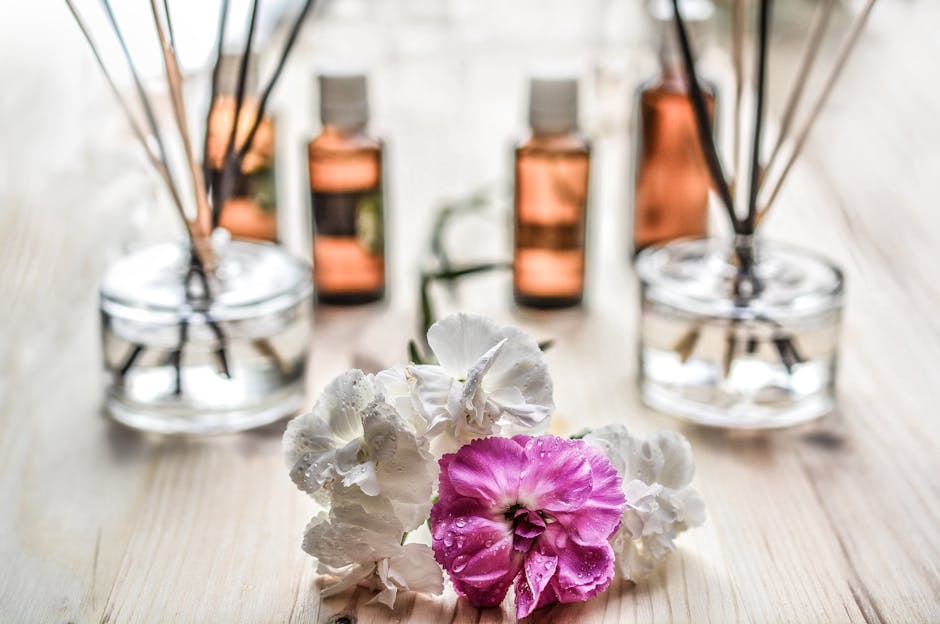 Chakra Sprays and Aromatherapy
Using my sense of smell is a great tool to transition my mind from checklists to thinking about nothing. Lavender and sage naturally allow me to release stress and keeps my mind blank without a ton of effort. I use several types of scents depending on the day such as candles, aromatherapy, incense, and essential oils. I really like Aveda's seven chakra sprays. I need to get more, actually, because I've used them so often. I usually spray the chakra scents on my mat, room, clothes, and even body. The seven bottles represent the seven chakras and if I feel I need a little encouragement in one of my chakras, I'll spray it on before going to work.
When I do use candles, I typically like smaller sizes and light them only when I'm about to meditate.
An aromatherapy diffuser is the easiest way to fill the room with calm scents, like chamomile and lemon. It's not difficult to use because you only need essential oil and water. The light vapors are very relaxing. Sometimes I'll rub essential oil on my wrists to increase the scent but that's normally high-stress days–so not that often.
Nature
When I get the opportunity, I like to meditate in nature and use the natural surroundings as my mind's aid. Hours can pass by and they only feel like minutes. It's a wonderful way for me to recharge and do absolutely nothing. Growing up in the Duluth area, I grew quite fond of areas like Canal Park, Jay Cooke State Park, Pine Valley, and the North Shore. It's a little bit of a drive from my hometown, but I find the drive relaxes me before arriving at the destination. In the places I listed, there are secluded areas away from the busy tourist spots. You just have to be a little adventurous.
Apps
I also use tools such as the Calm app, Muse, and YouTube. Finding videos can be time-consuming and I don't necessarily need the guided voice meditations anymore but I found great videos on YouTube that matched my state of mind.
If you haven't tried Calm I recommend downloading if even for a few days. I use this app to prep myself before entering interviews and presentations. It's a quick mind relaxer and has made the world of difference. Plus you get fantastic inspiring quotes daily–which you can find most of them on my Instagram.
Technology
I am still working with my new muse and finding that it is improving my meditations. I've reached my deepest meditative states when using Muse and always feel great after. It's a little costly, but I love the stats that come with the app. It tracks your mind waves and allows you to stay in a meditative state. It's unbelievable what a small headband can do.
Cozy and loose clothes
Comfy clothes are a must! I cannot meditate when feeling constricted by my professional clothing. Typically I wear baggy or loose-fitting shirts with yoga pants or leggings. My favorite sites for this type of clothing include Ivory Ella, Fabletics, Elephant Pants, Urban Outfitters, and Lively.
Inhale
.
.
.
Exhale
.
.
.
I hope these tips will help you find peace of mind.
It really comes down to knowing yourself and what will give your mind the best break. Practice is key. The more you give your mind a break the easier it will come with time.
Be sure to follow Live Wandering and my socials. With that, I leave you with a calm mind. Let me know your favorite mediation tools. Do you enjoy tapestries, incense, or Buddha bowls?
The reason I've been absent on my blog and when I'll return.
Experience the magic of an ice castle built from the ground up by Minnesotans.
Joy to the world! Christmas isn't over until we say it is–or until Psycho Suzi's switches their decorations out. Check out this Minneapolis bar that keeps the Christmas spirit alive through January.